The White House and The Onion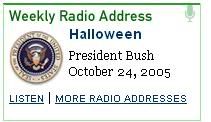 This is a wonderful battle to pick right now.
CNN/Reuters
:
WASHINGTON (Reuters) -- The White House is not amused by The Onion, a newspaper that often spoofs the Bush administration, and has asked it to stop using the presidential seal on its Web site.

The seal was still on the Web site www.theonion.com on Tuesday at the spot where President George W. Bush's weekly radio address is parodied.