"God help us all"
How Fox News (and much of the U.S. Media) lost the war
I have seen several Iraqi
blogs
with this photo this morning. Overly patriotic Fox News outdoes itself with its overly stupid tendencies. In modern warfare,
media matters
: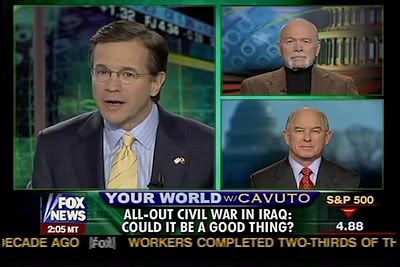 Iraq in turmoil
Truth about Iraqis
(blog):
Breaking: Sunni neighborhood of Aadhamiya is now under attack:

قبل كم ساعة هجمو مسلحين على حي الاعظمية

Several families have apparently sought refuge in a mosque. No Iraqi troops, police, or US forces have tried to prevent any of the attacks.

Updated: The Sunni Neighborhood Watch - if you want to call them that - have managed to repel attacks by men clad in black, that's the information I am getting. I do not know if all of Aadhamiya is secure right now.

Meanwhile, curfew extended for a second day, but that's a crock of shit, because Sadrists and Badrists are roaming free despite the curfew. I wonder if the curfew is to ensure freedom of movement for them.
A.P.
(alas, via Fox News): 14 [Police, read Shiite] Commandos Bodies Found
The New York Times
:
"Anybody who has a militia now has power," said Adnan Pachachi, a former foreign minister and member of the newly elected Parliament. "The Mahdi Army, Badr, the insurgents, these are the ones who wield power. They have weapons, they can move around and they are determined. It's not a question of political personalities, but of arms and weapons."
A.P.
(via the Southern Illinoisan):
BAGHDAD, Iraq - A car bomb exploded in a Shiite holy city and 13 members of one Shiite family were gunned down northeast of the capital Saturday in a surge of attacks that killed at least 30 people despite heightened security aimed at curbing sectarian violence following the bombing of a revered Shiite shrine.
The New York Times
: "Muslim Clerics Call for an End to Iraqi Rioting"
The Los Angeles Times
:
Police said a 30-minute gunfight between members of Shiite cleric Sadr's Al Mahdi militia and suspected Sunni militants erupted after noon prayers in a southern Baghdad neighborhood. No casualties were reported.

Gunmen in the northern city of Kirkuk shot dead Khlail Ibrahim Mohammed, a leader of a Shiite militia.

In Samarra, two police officers were killed and two civilians were injured in street clashes, and a key oil pipeline was set on fire. Hundreds of worshipers tried to gather near the destroyed shrine for prayers but were turned back.

At mosques where prayer services were held, sermons calling for peace mingled with flashes of anger. Sunnis and Shiites blamed each other for strife.

Shiite leaders called for street protests Sunday in the southern provinces. Tens of thousands marched in Basra holding banners that simultaneously called for avoiding civil war and the death of Saddam Hussein.
The Washington Post
:
In one encouraging political development, the main Sunni political bloc, the Iraqi Accordance Front, signaled it could come back to talks on forming a new government if the present government takes steps to ease the sectarian crisis.

The Front issued a statement welcoming the government's promise to rebuild the Shiite shrine in Samarra and Sunni mosques that were damaged in reprisal attacks afterwards.

The Sunnis suspended talks with the Shiites and Kurds on Thursday following attacks against more than 180 mosques in retaliation for the Samarra bombing.

Despite the conciliatory announcement, on Saturday there were signs the Sunnis were conducting their own offensive. In the morning, gunmen burst into a Shiite house and killed 13 members of one family living near the predominantly Sunni Arab town of Baqubah, north of Baghdad. The victims, all men, consisted of three generations of one family, the Associated Press reported.
Al Jazeera's story
.
CBC News
: "Iraq extends curfew until Monday"
Jim Lobe
of IPS has interviewed a number of prominent analysts.